Dancing/Luncheon at The Aqua Turf 11AM-3PM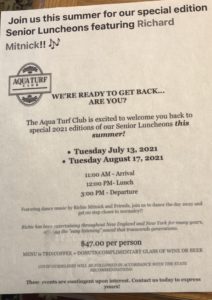 A DAY YOU WON'T SOON FORGET!
I'm thrilled to be back at the incredible Aqua Turf for a laid back afternoon of dancing, a fabulous luncheon and a celebration of life.  It's great to be back after the long, hard period of Covid restrictions. Ethel Lee  and Peter Annone will be with us today!
There will be a second such event on Tuesday, August 17th.
The price is $47.00 per person.  This includes the coffee station and fresh donuts when you arrive, and a complimentary glass of wine or beer.
Contact Karen Alex at the Aqua Turf ASAP at (860) 621-9335 to reserve your seat, or better yet, a table of friends!